Digital Marketing has several imperative concepts to it. One of the most challenging ones is Search Engine Optimization. Attracting traffic to your website, application, the brand is one of the most significant ways of building your brand's presence. An SEO strategy helps to put some light on achieving the goal of building digital awareness for a brand. SEO strategy as a detailed plan can help build a websites' ranking on search engines such as Google, Yahoo, and Bing. The plan drafted must be built focusing on several foundational pillars such as content strategy, SEO, user experience, and link building.
Your SEO strategy matters. Listed down below are just a few of the many elements which must be considered while you prep for your SEO approach:
SEO GOALS:
Before launching any major SEO initiative, defining goals is highly critical. This is important because without deciding what you aim for, your SEO strategies will not deliver measurable outcomes as desired. You must start by targeting your marketing results. Work backward to define your process goals. The following will help in listing you more such questions.
Planning to increase your eCommerce sales? Identify which industry you plan to target.
Are you trying to grow your brand's market share?
Do you wish to drive more traffic to your website?
Trying hard to work on your conversion rates?
 SEO Scalability:
Website SEO Scalability is one of the biggest challenges companies face. Your website may be loaded with several pages, it might not have the desired bandwidth to meet the SEO production goals, or maybe your brand is struggling with building links.
Deep SEO Scalability goes much beyond plug-ins and third-party software subscriptions. It must focus on streamlining keyword research, managing blogger outreach, and reporting against goals.
Integration and standardization are the keys to help scale SEO business strategy. Keeping executives, managers informed regarding the ongoing process is critical. Dashboards allow scaling SEO reporting to the team. Pulling data is easier using Google Analytics, SEMrush, Google Search Console.
 Competitive Analysis:
Evaluation of your competition at regular intervals allows you to explore. What your competitors do at the moment may be a new concept for you to learn. Extract the positive ways your competitors adopt. Analyze their organic search rankings, blog strategies, online reviews, and backlink profiles. A technical SEO audit can also guide you towards what your competition is exactly at.
This analysis serves the purpose of outranking your online competitors to attract the most search traffic.
 Keyword Research and Topics:
Keyword Research sets the base for a solid SEO Strategy. Creating content and web pages using advanced keywords has a higher chance to reap you with online traffic. Using this approach, you will be able to cover topics thoroughly which are the most trending. By following such a way you can make your chance with increased conversion rates, more engagement, and website traffic.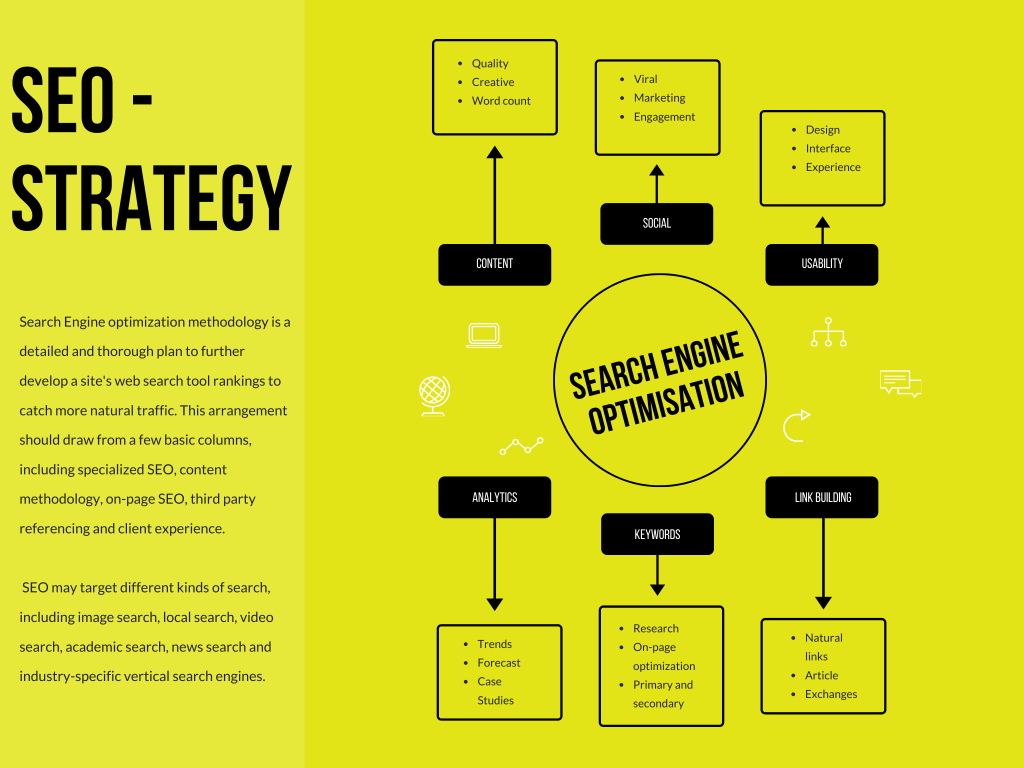 Looking forward to future SEO Trends:
Set it and forget it, this doesn't work in SEO. You may be refreshing and updating your content, optimizing sites, publishing creative content, but what matters the most is the capitalization on new SEO trends. Staying updated and current on the growing areas of importance such as mobile search, structured data, and video is so in 2021.
Keeping in mind the urge to update your SEO game at every regular interval will help you build a strong digital presence.